For women and men?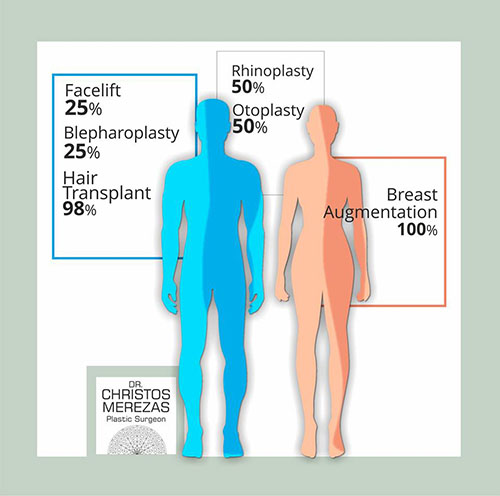 Για γυναίκες και άντρες;
Η συνεχής αύξηση του αριθμού των αντρών που καταφεύγουν στην Πλαστική Χειρουργική για αισθητικά προβλήματα, δείχνει ότι δεν ανέχονται πλέον τα "θυμωμένα" φρύδια, ούτε τα γερασμένα βλέφαρα, ούτε τον "λαιμό της γαλοπούλας".
Το ποσοστό των αντρών που μου ζητούν Facelift έχει αυξηθεί στο 25%. Αυτών που μου ζητούν Βλεφαροπλαστική αποτελεί ήδη το 33%.
Όπου δεν υπάρχουν ανατομικές διαφορές μεταξύ των δύο φύλων τα ποσοστά είναι τα ίδια:
1. Ωτοπλαστικές (για πεταχτά αυτιά) ήταν πάντοτε το ίδιο για τα δύο φύλα, από 50%.
2. Ρινοπλαστικές (για τη μύτη) είναι κι αυτό το ίδιο, από 50%
Εκεί όπου υπάρχουν ανατομικές ή λειτουργικές διαφορές τα ποσοστά είναι διαφορετικά:
1. Μεταμόσχευση μαλλιών: 98% άντρες, επειδή το πρόβλημα της αλωπεκίας (φαλάκρας) παρουσιάζεται σχεδόν αποκλειστικά στους άντρες.
2. Αυξητική Μαστών: 100% για τις γυναίκες, γιατί το πρόβλημα του μικρού στήθους παρουσιάζεται αποκλειστικά στις γυναίκες.
For women and men?
The continuous increase in the number of men who choose plastic surgery for the correction of aesthetic problems, shows that they no longer tolerate "angry" eyebrows, aged eyelids, or the "turkey neck".
The percentage of men who ask me to perform a Facelift has increased to 25%. Those who ask Blepharoplasty already account for 33%.
Where there are no anatomical differences between the two sexes, the percentages are the same:
1. Otoplasty (for prominent ears) was always the same for the two sexes, 50% each.
2. Rhinoplasty (for the nose) is the same, 50% each
Where there are anatomical or functional differences, the percentages are different:
1. Hair transplant: 98% men, because the problem of baldness is almost exclusively for men.
2. Breast augmentation: 100% for women, because the problem of small breasts occurs exclusively in women.