Are you a man over 50?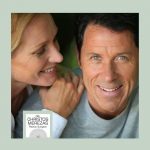 Είσαι άντρας άνω των 50;
Άκουγε τη σύζυγο σου! Μπορεί να δει το πρόβλημα σου πριν από σένα! Αυτή βλέπει και μέρη του σώματος σου που εσύ δε μπορείς να δεις. Και μπορεί να σε βοηθήσει να γλιτώσεις τη ζωή σου!
Ξέρεις πως οι γυναίκες είναι δέκα φορές πιο ικανές να δουν τον καρκίνο του δέρματος πάνω σε άλλους;
Οι άντρες που έχουν τη βοήθεια γυναίκας δεν την παθαίνουν εύκολα!
Are you a man over 50?
Listen to your wife! She can be the first one to trace a problem that you may have! She can see parts of your body that you cannot. And she can help you save your life!
Did you know that women are ten times more capable to trace #skincancer on other people?
Men who have a woman's help, cannot get wrong!